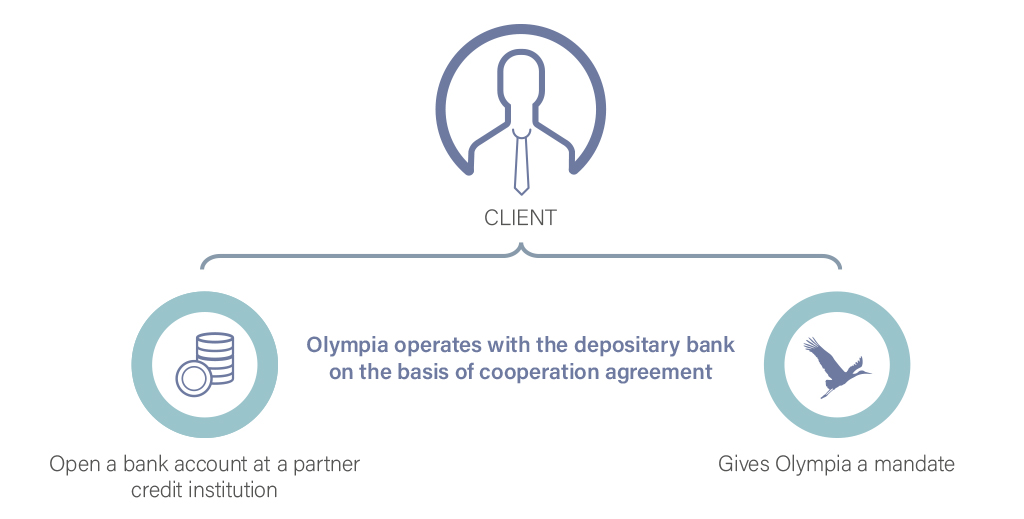 The customer is accompanied during the opening of an account at a credit institution that will act as a Depositary Bank.

At the same time, it confers the management mandate to Olympia Wealth Management, which will manage the assets.

Orders sent by Olympia to the custodian bank will be in line with the customer's risk / return profile and consistent with their model portfolios.
Olympia does not hold the assets of the clients, but takes care of their best management


The customer can check the progress of the investments at any time by accessing the custodian bank's home banking.

Olympia's activity is remunerated through a management and / or performance fee charged directly to the Client's current account, as agreed upon at the time of subscription.
LONDON 60 Cannon Street
+44 20 4540 5154

MILANO Via Turati, 38
+39 02 6269 5038

ROMA Via Calabria, 56
+39 06 4576 3550

Verona Via Fiumicello, 23
+39 045 6575593
LONDON 60 Cannon Street | +44 20 4540 5154
MILANO Via Turati, 38 | +39 02 6269 5038
ROMA Via Calabria, 56 | +39 06 4576 3550
VERONA Via Fiumicello, 23 | +39 045 6575593
LONDON 60 Cannon Street | +44 20 4540 5154
MILANO Via Turati, 38 | +39 02 6269 5038 // ROMA Via Calabria, 56 | +39 06 4576 3550 // VERONA Via Fiumicello, 23 | +39 045 6575593
This site uses technical cookies to improve the user experience. For more information read the Privacy Policy.